The world-renowned semiconductor manufacturer ROHM made his debut at the "2018 Beijing International Automobile Manufacturing and Industrial Assembly Expo" held at the China International Exhibition Center in Beijing on July 19-21, 2018 (Booth No. 2, Hall T213). With the concept of "contributing to the future of automobiles with semiconductors", it has brought leading semiconductor products such as new energy vehicles, miniaturization and light weight, auto-driving, and human-computer interaction.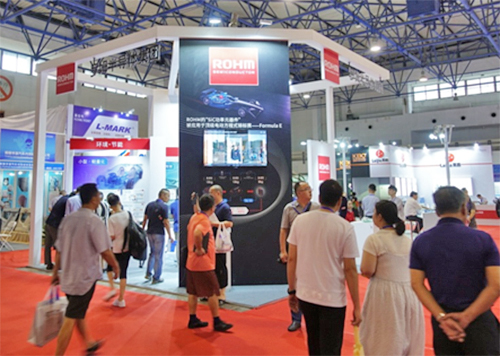 In the "Formula E FIA Electric Formula Championships" special exhibition area and "xEV", "environmental protection / energy saving", "safety / comfort" three exhibition areas, highlighting the following products and technologies:
Advanced SiC (silicon carbide) technology: power "Formula E FIA Electric Formula Championship"
ROHM is the industry leader in SiC power components. As the official technical partner of the VENTURI Formula E Team, the Formula E team in the electric racing top event, since the opening of the third season on October 9, 2016, it is the core drive component of the inverter. Provides global advanced SiC power components. Diodes (SiC-SBD) were offered in Season 3, and from the fourth season, "Full SiC" power modules with integrated transistors and diodes were available. Compared with the inverter of the second season without SiC, it has achieved 43% reduction in size and weight reduction of 6kg. This time, an inverter model equipped with ROHM's SiC power components was exhibited.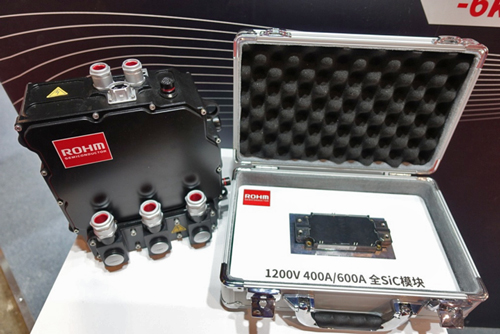 Ultra-high-speed pulse control technology: miniaturization and simplification of mild hybrid vehicles
For a 48V power-driven in-vehicle system such as a mild hybrid vehicle, ROHM introduces a BD9V100MUF-C with a high step-down ratio built-in MOSFET step-down DC/DC converter for 2MHz operation (switching). The product is equipped with Nano Pulse Control, which combines the advantages of Rom's three circuit design, layout and process technologies. The high voltage input of up to 60V can output up to 2.5V at 2MHz. Voltage (buck ratio of 24 to 1). This not only miniaturizes peripheral components, but also allows high- and low-voltage conversion structures consisting of more than two power ICs. In the past, only one power IC is needed, which miniaturizes applications and simplifies the system.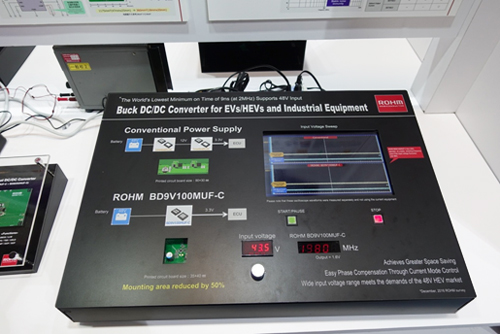 Small and efficient vehicle power IC: making safe driving assistance modules smaller and more energy efficient
The BD9S series is an ultra-small vehicle step-down DC/DC converter with output monitoring, which is small in size, high in efficiency and high in reliability. It contributes to the development of sensors, cameras and radars such as ADAS (Advanced Driver Assistance System) that require miniaturization, energy saving and high reliability.
On-board operational amplifier designed without anti-noise: successfully solves the noise problem in the development of automotive electronic systems
The BA8290xYxx-C series of grounding operational amplifiers for vehicles are developed for core systems such as EV / HEV engines and automotive electronic systems using in-vehicle sensors. The output voltage varies by ±3.5% to ±10% in all frequency bands compared to general products. Only ±1%, it is an operational amplifier with absolute anti-noise performance, which contributes to the design simplification and reliability improvement of the increasingly popular in-vehicle sensor applications.