NXP Semiconductors

Continuous Positive Airway Pressure (CPAP) Machine
CPAP machines maintain constant airflow by continuously monitoring system pressure in conjunction with ventilator motor control speed regulation.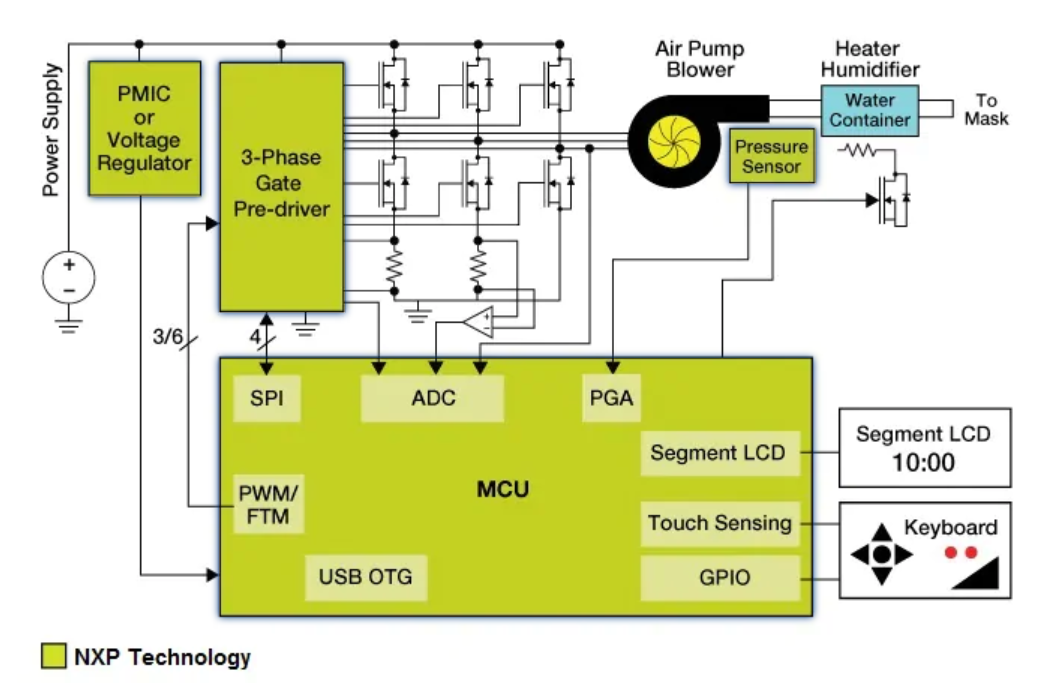 * The green box is the part that NXP can provide.
Parts that can be used with this CPAP ( From NXP ). Please click the URL to get the more detailed part numbers.



Part Number

MCU
LPC1768FBD100
LPC1788FBD144
LPC2142FBD64
PMIC or Voltage Regulator
MMPF0100
MC34709


3-Phase Gate Pre-Driver
GD3000
MC34937


Pressure Sensor
MPXHZ6130A
MPXx6115


---
Renesas Electronics
CPAP Flow Sensor




The Synergy S7 microcontroller and FS2012 flow sensor, together, control the speed of motors for better flow accuracy, provide closed-loop feedback with the air flow sensor to determine motor failure, and have a built-in LCD controller for expanded system features. This combination is ideal for CPAP and high speed fluid flow control systems. Power and timing devices are available to complete the solution.
MEMS solid-state gas flow sensor

High speed acceleration and deceleration

LCD driver

Up to 640KB SRAM

Cloud connectivity via GPRS/3G



---
CPAP Application Solutions for Several Major Brands



(A) Maxim Integrated (B) Texas Instruments (C) STMicroelectronics
(D) NXP Semiconductors (E) Renesas Electronics (F) Microchip Technology